The Patterson Foundation

Support
A key factor in the Giving Challenge's success has been the Community Foundation of Sarasota County's collaboration with The Patterson Foundation (TPF), which has provided $24 million in matching funds and prizes to incentivize donor participation since 2012. The Patterson Foundation strengthens the efforts of people, organizations and communities, focusing on issues that address common aspirations and foster wide participation, along with ways organizations learn and share as they evolve.
The Patterson Foundation is continuing its work to uplift the nonprofit sector in our region through the 2022 Giving Challenge. To strengthen giving throughout our community, The Patterson Foundation will contribute a 1:1 match for unique donations, up to $100 per donor, per nonprofit organization. There will be no limit on the number of unique individual matches a nonprofit organization can receive.
---
Logos
Nonprofit organizations participating in the 2022 Giving Challenge are encouraged to utilize The Patterson Foundation logo below in their Giving Challenge outreach materials. For more details on proper usage of The Patterson Foundation 2022 Giving Challenge logo, see the Logo Usage Guide in the Documents section below.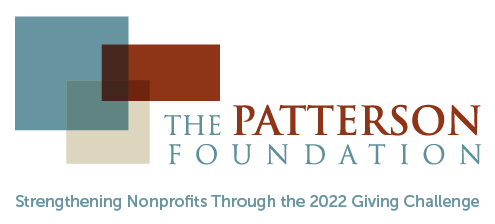 (For use in BW ads only)
Black & White
---
Documents
The Patterson Foundation has prepared the following documents to support nonprofit organizations participating in the 2022 Giving Challenge.


---
Learn More